What You Need To Know
Be Safe and Get Care
Don't hesistate to get the care you need. The highly trained doctors and nurses of Olympia Medical Center are prepared to care for you and your family in a safe environment. Our comprehensive range of services are available to help the members of our community get back to good health.
The safety and well-being of our patients, families, and our community is the top priority of the healthcare team at Olympia Medical Center. The information on this page, including important Hospital regulations and guidance on COVID-19, is a resource meant to help you and your loved ones.
Please review this information and stay informed.
Protect Yourself and Others
The same steps that help prevent the spread of the common cold and flu will also slow the spread of COVID-19: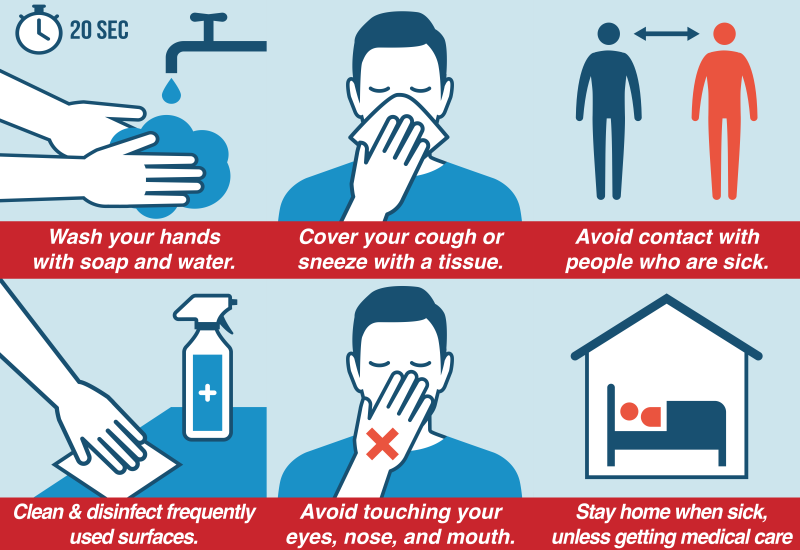 Call your doctor if you have these symptoms:

It is important to call your doctor before going to the hospital if you think you have the symptoms of COVID-19 or if you think that you've been exposed to the virus. This will help ensure that you recieve the most appropriate care and helps protect other members of our community.
Visitation Guidelines
To help control the spread of respiratory illnesses such as COVID-19, we are limiting our visitation policy to the following:
Visiting hours are now restricted to the one hour periods of 10-11 a.m. and 4-5 p.m.
Only one visitor per patient is allowed at a time, other visitors must wait outside the hospital or inside a personal vehicle.
No one under the age of 16 may visit.
All visitors must wear a face covering at all times.
All visitors must complete a screening questionnaire upon entry.
All visitors must have a temperature screening upon entry.
All visitors must wash or sanitize their hands upon entry.
No visitors will be permitted to see COVID-19 positive patients or patients under investigation of COVID-19.
Visitors will not be allowed to stay overnight. We further discourage extending visits for any lengths of time beyond a few minutes in order to help maintain a safe environment for patients, visitors, and medical staff.
The visitation regulations may change on a per case basis in order to ensure the safety of patients, visitors, and staff.
This visitation policy is in place for the safety of our patients, families, physicians, nurses, and all of our employees. Thank you for your help in lowering the risk for our healthcare workers and other members of our community.
Additional Resources:
Please visit the following resources regarding COVID-19 to learn more about how to protect yourself and your loved ones: