What You Need To Know
Protect Yourself and Get Care
The health and safety of our patients, families, and our community is the top priority of the healthcare team at Olympia Medical Center. The information on this page, including important Hospital regulations and guidance on COVID-19, is a resource meant to help you and your loved ones.
Please review this information and stay informed.
Call your doctor if you have these symptoms:

It is important to call your doctor before going to the hospital if you think you have the symptoms of COVID-19 or if you think that you've been exposed to the virus. This will help ensure that you recieve the most appropriate care and helps protect other members of our community.
Visitation Guidelines
In an abundance of caution and to help control the spread of respiratory illnesses such as COVID-19, we are no longer allowing family and friends to visit patients in our hospital except during end of life situations. In these situations, visitors MUST be screened for signs and symptoms of fever or respiratory illness (cough, fever, shortness of breath) before entering the facility.
All visitors will be screened by our staff.
If you are experiencing the following, please refrain from visiting:

Shortness of Breath
Cough
Fever

If you have recently visited a region or come into contact with an individual known to have COVID-19, please do not visit.
These visitation restrictions are in place for the safety of our patients, families, physicians, nurses, and all of our employees. Thank you for your help in lowering the risk for our healthcare workers and other members of our community.
Protect Yourself and Others
The same steps that help prevent the spread of the common cold and flu will also slow the spread of COVID-19: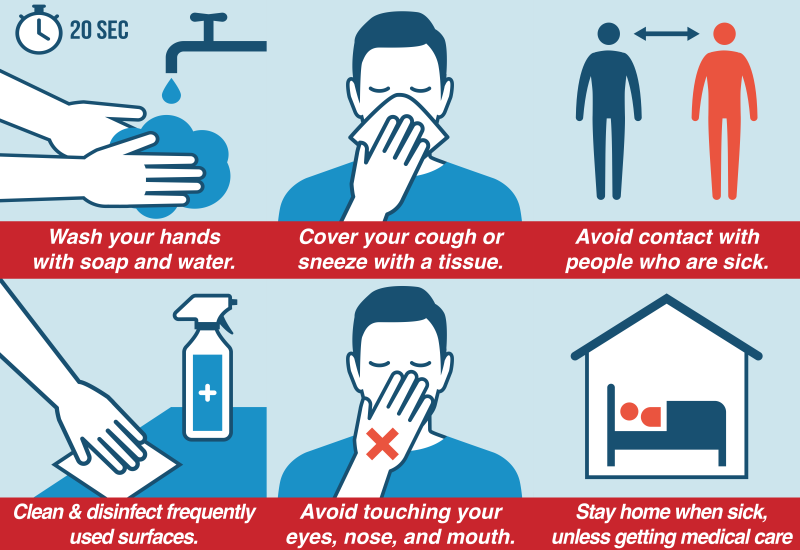 Additional Resources:
Please visit the following resources regarding COVID-19 to learn more about how to protect yourself and your loved ones: