Infection Prevention

Healthcare-associated infections (HAI) are infections that patients can get while receiving medical treatment in a healthcare facility. According to CDC HAI Prevalence Survey published in 2014, roughly 722,000 individuals are affected by HAI each year with about 75,000 patient deaths.
As part of our commitment to provide you the highest quality of care, Olympia Medical Center established an Infection Prevention Program with patient safety as the number one priority. This program aims to prevent the spread of infections from patients, visitors, physicians, nurses and everyone that comes in to the facility.
What is an Infection Prevention Program?
The Infection Prevention Program in Olympia Medical Center involves prevention, surveillance and control of the transmission of infections. It is an integrated and collaborative program designed to effectively involve all patient care departments and patient care support departments or services, the patients and their visitors. The program aims to provide a safe and healthy environment for all who enter the facility through:
Early detection - Prompt identification of possible infections and proper use of infection control to prevent the spread of infection.
Expert Guidance - Ensuring that up to date Infection Prevention and Control guidelines are practiced; and the recommendations from county, state and federal agency regulations are followed.
Staff Education - Providing education on Infection Prevention and Control guidelines to all new staff, conducting annual training, and hospital-wide and departmental in-service for Infection Prevention updates or related issues.
Surveillance Monitoring - Implementing a surveillance system for identification, evaluation and reporting of infections in order to mitigate the spread of infections. Some examples of targeted surveillance Olympia Medical Center monitors include; surgical site infections (SSI); device-associated infections such as central line-associated bloodstream infection (CLABSI) and catheter-associated urinary tract infection (CAUTI); multidrug-resistant organisms (MDROs) such as Methicillin-resistant Staphylococcus aureus (MRSA), and Vancomycin-resistant Enterococcus (VRE).
Quality Assurance - Conducting performance improvement activities to improve existing processes and outcomes. Ensuring that the Infection Prevention Program Plan is annually evaluated and prepared taking into consideration the infections identified as associated with high risk, potential interventions and the previous year's aggregate surveillance data.
Infection Prevention Tips during your visit
Whether you are preparing for your hospital stay or visiting a family member or friend, Olympia Medical Center has your health and safety as our top priority. Please consider the following information before entering the hospital.
Reconsider visiting a loved one when you are experiencing any of the following symptoms:
Diarrhea in the last 48 hours
Nausea or vomiting
Chills or Fever
Rash or any other signs of skin infections
Flu-like symptoms (e.g. cough, runny nose, sore throat)
Perform Hand Hygiene
As approximately 80% of infections are transmitted by hands, the single most important strategy in preventing infections is hand hygiene. This can be performed in two ways, either by using alcohol hand gels or by using soap and water.
While in the hospital, please make sure you wash your hands:
Before and after touching a patient
Before and after eating
After using the restroom
After leaving the hospital and hospital unit
When hands are visibly dirty, use soap and water instead of alcohol hand gels
Follow Respiratory Etiquette
Respiratory etiquette refers to a source control measure in order to contain respiratory secretions and prevent droplet transmission of respiratory pathogens such as influenza, adenovirus, respiratory syncytial virus, etc.
This is accomplished by:
Covering the nose and mouth when coughing or sneezing with a tissue or mask.
If tissue or mask is not available, cough or sneeze into your upper sleeve. AVOID using your hands.
Ensure proper disposal of tissue or mask to the nearest waste receptacle.
ALWAYS perform hand hygiene after coughing or sneezing or after disposal of used tissue and masks.
Infection Prevention during Surgery
A surgical site infection (SSI) is an infection that can happen in the area where surgery was performed. The severity of the infection can vary from involving only skin, to involving tissues under the skin and even organs adjacent to the area. These infections can affect your recovery from surgery and can also lead to additional medical cost.
In 2016, the SSI at Olympia Medical Center was significantly lower than the national benchmark as observed in the graph below. The data reflects the 29 types of orthopedic, cardiac and gastrointestinal procedures reported to the state as per Health and Safety Code Section 1288.55 (data abstracted from the Centers for Disease and Control – National Healthcare Safety Network). These data are risk stratified and are calculated by ratio of total number of observed SSI over the total number of expected infections.
Efforts made in prevention of SSI include but are not limited to the following:
Performing proper surgical hand antisepsis or surgical scrub techniques
Appropriate antimicrobial prophylaxis
Ensuring proper ventilation in the operating room
Ensuring cleaning and disinfection of environmental surfaces (use of advanced cleaning technology – smart UVC robot for disinfecting operating rooms)
Ensuring proper sterilization of surgical instruments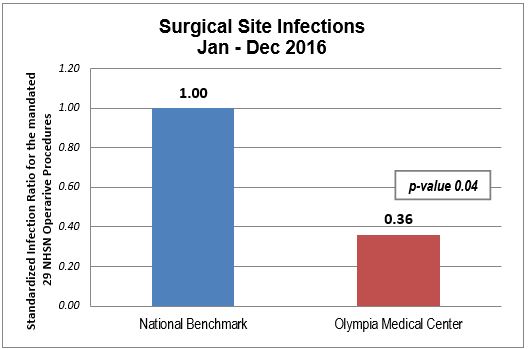 Data is retrieved from the Secure Access Management Service of Centers for Disease Control and Prevention database: National Healthcare Safety Network. https://sams.cdc.gov/