Emergency Services
IF THIS IS AN EMERGENCY DIAL 911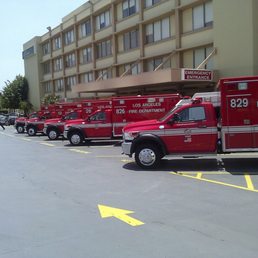 Olympia Medical Center's highly qualified Emergency Department team provides outstanding evaluation and treatment for patients through a full spectrum of emergency medical services. The ER staff at Olympia Medical Center operate with the understanding that every individual deserves compassionate, quality care. Not only will we attend to those experiencing serious illnesses and injuries or those undergoing life-threatening situations that require immediate medical attention, but we will also see that any patient with an ailment is treated without discrimination. Our patient-oriented doctors understand the imperative to be considerate of all emergency needs. Thus, our wait time—only 19 minutes on average—remains among the lowest in Los Angeles County.

Board-certified physicians are always available in the Emergency Department at Olympia Medical Center, which is open 24-hours a day, seven days a week. The ER maintains 14 beds with our healthcare providers there to ensure each patient receives prompt and effective treatment for emergency medical problems. According to Dr. Ali Jamehdor, D.O., Emergency Department Medical Director, "We are not only efficient, but we are compassionate, and we will respond to any complaint from a patient who arrives at the ER, no matter how big or small."

For Non-Emergency Services you can contact the Emergency Department at (310) 657-5900.