Back to News »
NEW MINDRAY IMAGING
Friday, July 12, 2019 at 11:30am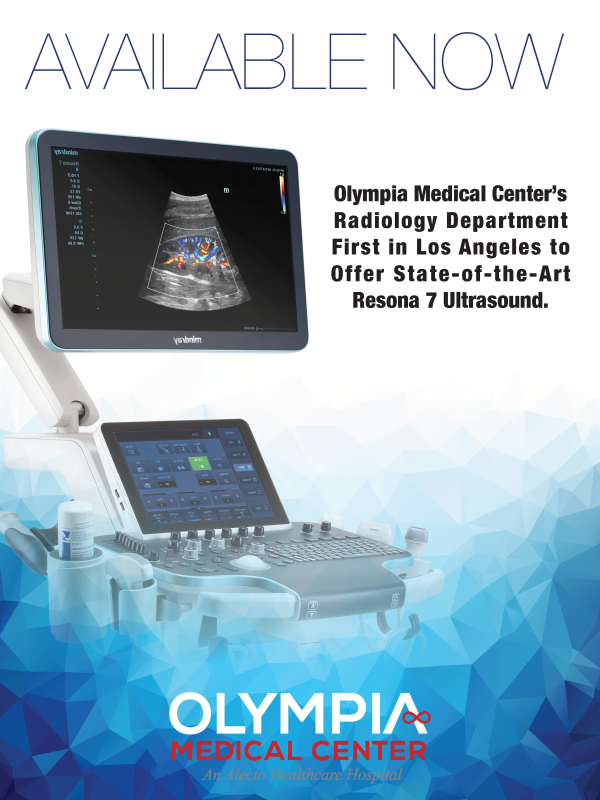 Olympia Medical Center, an Alecto Healthcare Hospital, recently acquired the Resona 7 ultrasound system from Mindray, a leading developer of next generation medical technology. The Resona 7 system is based on ZONE Sonography® Technology (ZST+), which enables state-of-the-art imaging for a wide variety of healthcare applications. Olympia is the first to offer the Resona 7 in the Los Angeles area.
The mission of Olympia Medical Center and its medical staff is to provide the highest quality of care in a comprehensive, innovative and cost-effective manner. This commitment includes securing top of the line technology, which our highly trained healthcare providers will use to help diagnose numerous health issues. It is imperative for us to employ the best technology in providing excellence in patient care.
The Resona 7 system features Mindray's Living Technology, which enables numerous upgrades as new enhancements and applications are developed. For example, Mindray recently introduced the Sapphire Edition of the Resona 7, elevating the system's performance with a comprehensive transducer selection of ten new transducers and advanced capabilities including Sound Touch Elastography and Contrast Enhanced Ultrasound (CEUS). The multiple display options, imaging features and preset functionality provide a full spectrum of scanning capability, such as HD Scope, iTouch, iScape, Fusion and iWorks.
"The fact that we can take advantage of new developments throughout the life of the system was a major reason we chose the Resona 7," said Naomi King, lead ultrasound/vascular technologist for Olympia. "The system is highly versatile, affordable and reliable while offering a comprehensive solution for our high volume workflow. Supported by excellent customer service and training, the Resona 7 is a fully adjustable and sturdy system designed to provide substantial ease of use for the clinician."
Olympia Medical Center was founded in west Los Angeles in 1948. It has been a leader in providing healthcare provision to the area. The medical staff has been committed to offering the highest quality of care in a comprehensive, innovative and cost-effective manner, with attention to respect, dignity, compassion, patient safety and customer service.
"We are pleased to partner with the radiology department at Olympia Medical Center," said Steve Prozorowski, senior director of sales, Mindray ultrasound. "We look forward to a long and successful relationship with this facility and greatly value Olympia's ongoing input as we further advance our technology."